OB - Brøndby IF
==========
Only 3 days after the incidents between SSU and White Pride of Aarhus, the calendar brought BIF to Odense once again to play a high-risk game because of both teams' hooligans. In the past the OB hools were known as "Odense Hellside" but nowadays the group has fallen apart.
The game was played on a wednesday and after the previous fights 3 days earlier, the police were alerted. A large policeforce were called out to prevent further incidents because people feared some heavily wounded persons. Here's the situation:
In the last couple of months, a large group of second-generation immigrants in Odense had been into a war with the Hells Angels, a situation which got very hectic at one point. Furthermore these immigrants are also known to bushwhack innocent people in their daily life. This group has become bigger over the last few years, and it's the same group who got into a large fight with the SSU some while ago. So the police feared heavy riots to break out, that's why there was more police than one could imagine.
Before the match the SSU were followed by the police from the minute they took the train in Copenhagen untill they got off in Odense. On the way to the stadium all remained calm, just like it stayed calm during the whole game.
After the match, the SSU mob were walking into the city centre in order to spot the group of immigrants. When no immigrants were to be found the SSU decided to visit a well-known pub of the OB fans. A pub which was famous among the OB hooligans in the older days. In the pub there were lots of OB celebrating their 2-0 victory. The SSU boys all lined up in front of the pub and attacking it with bicycles and fireworks.
One OB guy was wounded and had to be brought to the hospital.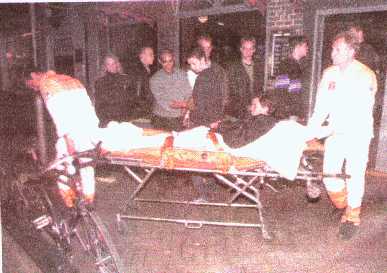 Wounded OB lad brought to the hospital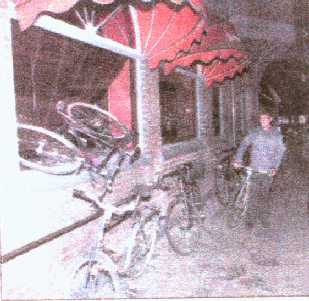 The OB pub one hour after the attack